door Pieter Hildering

in januari 2008 uitgegeven door:
Avance Taurino
colección La Cuadrilla
Valencia, España
www.avancetaurino.com

ISBN 978-84-936105-1-7
Voor de prijs van € 20,-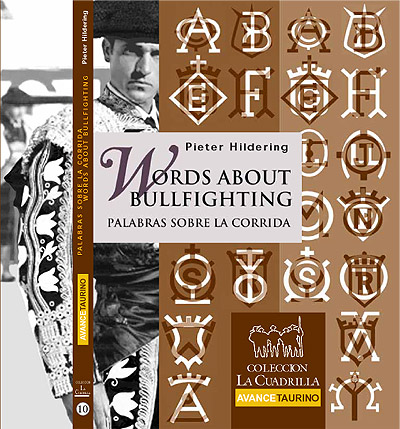 omslag: de Nederlandse torero Nikko Norte met zijn
traje de tulipanes
klik op de omslag
om een PDF-versie te openen
The articles published in this book have been written out of respect and in admiration. They are light in form, but weighty in their content. Some have been livened up with a touch of glamour. Due to his professional background, Pieter Hildering teaches and shares his knowledge and he does so with honesty and mastery. He entertains and clarifies to explain the concepts. Reading them one hears the applause in the stands, smells the pasture, the bull. One feels the tingling of expectation before the unknown of an afternoon of bulls. In his writings one imagines the colour of the spectacle.
With this work, Avance Taurino crosses the boundaries of Hispanic geography, of this bull hide-shaped land. It will travel to the capital of the world, to New York, to London, and perhaps to the land of the Asian giant where visionaries and enthusiasts try to introduce the Feast of bullfighting. Thank you maestro, on behalf of the aficionados of the world!
Los artículos publicados en esta obra se han escrito desde el respeto y la admiración. Livianos en su forma, pero con peso en su contenido. Algunos pincelados con un toque de 'glamour'. Por deformación profesional, Pieter Hildering enseña, divulga conocimientos y lo hace con honestidad y maestría. Entretiene y explica para asentar los conceptos. Leyéndolos se escuchan los aplausos en los tendidos, llega el olor del campo, del toro. Surge el cosquilleo de la expectación frente a la incógnita de una tarde de toros. Se vive el color del espectáculo.
Con esta obra, Avance Taurino traspasa los límites de la geografía hispana, de esta tierra de piel de toro. Viajará hasta la capital del mundo, a Nueva York, a Londres. Y quizá, a las tierras del gigante asiático, donde visionarios, entusiastas intentan introducir la Fiesta taurina. Gracias maestro, de parte de los aficionados del mundo.
Amparo Mallén
---
'These pieces read very well. There's lots of information and no doubt they will serve an educational, as well as an entertaining function.'
Michael King, Vancouver, Canada
'These thoughtful and basic - but fact-filled! - articles have always been a delight to the English-speaking afición, and surely make newcomers to the plaza feel welcome to what may otherwise be strange surroundings.'
Lore Monnig, president of the New York City Club Taurino, USA
'Tengo que decirte que en tus artículos has capturado el olor y el sonido de los toros.'
Amparo Mallén, Valencia, Spain
'I was reading your articles from Valencia. It reminded me to contact you and to tell you how much I have been enjoying these contributions.'
Hugh W. Hosch, Atlanta, Georgia, USA
---
Fragment uit 'Words about bullfighting / Palabras sobre la corrida'
---