To be a matador
So tell me, what is it that makes a person risk their life in the bullring? Why is it that for many centuries young people in Spain have been attracted to willingly step into the closed-off territory of an almost-wild animal, to create an amazing choreography with nothing more to protect themselves than a narrow blade and a red cloth? We know of course that for some in the past, the corrida de toros was a means to escape poverty. But surely, in this modern and affluent society of today, with more education and better prospects for the future, poverty should have been taken care of. To others it was the attraction to a life of glory and fame. However, to one or two it meant something more than material gain. Here's what a young bullfighter told me recently when I asked him that urgent question. He said: "A corrida de toros is all about emotions although someone who isn't open to this will never understand. I am a matador and I feel privileged to be one. Life is lonely, but I don't mean this in a negative sense. Loneliness is something I've always looked for. As a matador you constantly walk around with a strange feeling. Life is more intense and I think this is important to me because life never lasts longer than until the next corrida. I realise that what I'm doing is unique and know that what I want to achieve, will never be repeated. That is, if I ever achieve what I want to achieve."
Did this mean that better education and better prospects had turned him away from the spiritual side of life? Maybe, whoever wanted to become a matador went searching for a well balanced body and soul? But surely, there must be safer ways to do so.
Ser matador

¿Cuenteme, cuál es el motivo por el que una persona arriesga su vida en una plaza de toros? ¿Por qué durante muchos siglos los jóvenes españoles se han sentido atraídos para enfrentarse a un animal medio salvaje, para crear una asombrosa coreografía sin nada más para defenderse que una estrecha hoja de acero y una tela roja? Sabemos que, para algunos en el pasado, ser matador de toros era el único medio para escapar de la pobreza. Pero, seguramente, en nuestra moderna sociedad de abundancia de hoy, con más educación y mejores perspectivas de futuro, la pobreza se elude de otras muchas formas.
Para otros fue la atracción de una vida de gloria y fama. Sin embargo, para alguien significó algo más que ganancia material. Aquí está lo que un novillero me dijó recientemente cuando le planteé esa pregunta urgente. Me contestó: "Una corrida de toros es emoción, aunque alguien que no esté abierto a esto, nunca lo comprenderá. Soy matador y me siento privilegiado por serlo. La vida es solitaria, pero no lo significa en un sentido negativo. La soledad es algo que siempre he buscado. Como matador constantemente andas con un sentimiento extraño. La vida es más intensa y pienso que esto es importante para mí porque la vida nunca dura más que hasta la próxima corrida. Me doy cuenta de que lo que hago es algo extraordinario y sé que lo que quiero lograr, nunca será repetido. Eso si logro hacerlo alguna vez."
¿Significa esto que esa mejor educación y mayores perspectivas lo habían alejado del lado espiritual de la vida? ¿Quienquiera que quiso llegar a ser matador fue para buscar un cuerpo y alma bien equilibrados? Seguramente debe haber maneras más seguras para hacerlo.
José Antonio 'Morante de la Puebla' starts his faena with a 'pase de castigo'
iniciando su faena con un pase de castigo
(photograph / foto: Olga Holguín)
Banderillero José Casanova from the cuadrilla of matador Angel de la Rosa in serious trouble
José Casanova, banderillero en la cuadrilla del matador Angel de la Rosa en apuros. Valencia, Feria de Fallas 2009
(photograph / foto: Mateo)
The aficionado
Everyone who visits a corrida should know that - apart from the obvious - it is impossible to predict the outcome of what is about to happen. A young anonymous torero can unexpectedly leave the arena in triumph, while a famous star walks out empty-handed. Bulls from well-established breeders can fail miserably and an unsightly specimen of obscure origin can be declared bull of the year. For an aficionado perseverance is essential and a supply of luck indispensable, which is why he has such a complicated personality. He is a fatalist who expects the corrida to go badly as well as a masochist suffering through a bad corrida but refuses to leave in case something wonderful happens in his absence. In spite of all this, he'll go back the following day for a second helping.
He may be a masochist, most of the time he's a well-behaved masochist. Such an aficionado vents his disappointment by hissing and booing at the leading player (man ór beast), especially when the matador fails to see the possibilities that are offered to him. That's why the riot police have yet to be seen invading the stands to break up groups of warring aficionados.
A bullfight isn't about violence. Our bullfighter isn't better than the one from your town. Violent rivalry between competing towns or fan clubs is unthinkable in a bullring. Trains to and from a plaza de toros are left without a scratch and the only arenas in ruins are the ones in the French towns of Nîmes and Arles.
Almost three centuries ago, after he had been to a bullfight in Madrid, an English clergyman philosophised about the essence of the corrida. He confessed:
"A certain amount of ferocity in our nature is needed and if, on the one hand, it should be kept within certain limits so as not to degenerate into cruelty, on the other hand we should not over-refine ourselves for fear of losing ourselves in excessive effeminacy ..."
El aficionado

Todo aquel que presencia una corrida deben saber que - aparte de obvio - es imposible predecir el resultado de la función. Un joven torero desconocido puede salir a hombros de la plaza tras un triunfo inesperado, mientras que una figura se va con manos vacías. Toros de una ganadería consolidada pueden fallar lamentablemente y un especimen feo, de origen oscuro puede ser declarado toro del año.
Para un aficionado la perseverancia es esencial y una buena dosis de suerte es imprescindible, ya que el discurrir de la corrida es complicado. Es fatalista quien anticipa que la corrida va a ir mal así como un masoquista, que supone que va a presenciar una mala corrida pero no deja de ir no vaya a ser que algo maravilloso suceda y él no lo pueda ver. A pesar de todo, volverá el día siguiente pase lo que pase. Puede ser masoquista, pero es masoquista educado. Tal aficionado descarga su desilusión pitando o abucheando al principal protagonista (hombre o bestia), sobre todo cuando el matador desaprovecha las posibilidades que le ofrece el toro. Por eso la policía antidisturbios aun no ha tomado los tendidos para separar a los grupos de aficionados opuestos.
En una corrida de toros no hay violencia. Nuestro torero no es mejor que el del pueblo vecino. La rivalidad violenta entre pueblos competidores o peñas taurinas es inconcebibles en una plaza de toros. Los trenes que llevan aficionados a una plaza de toros no sufren ni un rasguño y las únicas plazas en ruinas se encuentran en las ciudades franceses de Nîmes y Arlés.
Hace casi tres siglos, después de que hubiera estado en una corrida de toros en Madrid, un clérigo inglés filosofó sobre la esencia de una corrida: "Hay un cierto grado de ferocidad necesario en nuestra naturaleza, y si, de un lado, es conveniente restringirlo dentro de ciertos límites para que no degenere en crueldad, por otra parte no debemos refinaranos con exceso, por miedo a hundirnos en un afeminamiento excesivo."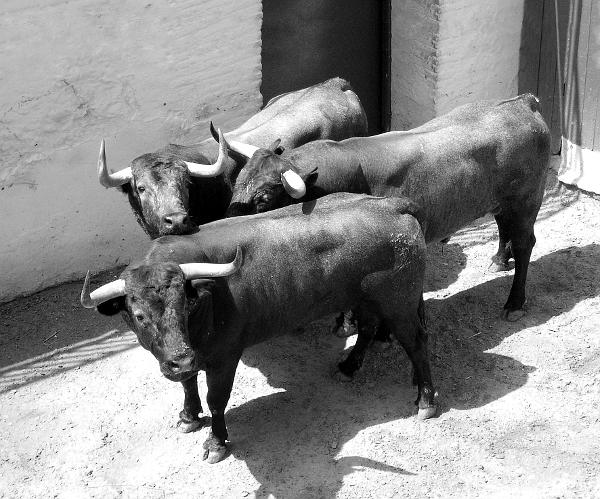 Three grey 'Adolfos' huddled together in the corrals of the Valencia
Tres cárdenos de Adolfo Martín apiñados en los corrales de la plaza de Valencia
(photograph by the author / foto del autor)
Students of the Valencian Taurine School watch as one of their colleagues performs
Alumnos de la Escola de Tauromaquia de Valencia observan los capotazos de un de sus compañeros
(photograph / foto: Mateo)
---
terug naar 'More words about bulls / Más palabras de toros'
bestel het boek bij de auteur via het intekenformulier / order your copy